Published on 22 October 2020
Light-weighting is at the heart of the current challenges of the automotive industry: electrified vehicles need to gain in autonomy in particular by reducing their weight, the taxation of vehicles because of their weight is being considered, OEMs must reduce their CO2 emissions, etc. Tomorrows vehicles must be lighter.

To meet the need of vehicle light-weighting , many solutions now replace metal components with plastic. However, for certain applications, which require clamping forces to remain fixed, the effects of creeping needs to be avoided.
Indeed, during a traditional assembly of plastic components with screw and nut, plastic deformation appears over time, thus causing a drop in tension of the assembly and the risk of loosening of the nut and the bolt.

This can lead to costly, time-consuming and, in the worst-case scenario, dangerous situations. What if more than one screw loosens in a car within a single assembly system?
The function is to reinforce clearance holes in plastics to provide a metal to metal contact allowing the application of clamping forces and limit the compression to avoid over-stressing of the plastic
With this in mind our multidisciplinary teams have developed a complete range of anti-creep solutions:
Anti-creep rings: elastic and non-elastic, round, oval, square, etc.
Anti-creep shoulder screws: in steel 10.9, steel 8.8, aluminum and EGH, etc.
To learn more about our anti-creep assembly solutions, download the datasheet by clicking on the button below: ↓
---

100% ADDED VALUE

In addition to allowing a durable and safe assembly, our anti-creep solutions have advantageous characteristics such as:
Existing solutions in M6 (for anti-creep rings), M8 and M10;
Different panel thicknesses possible;
For the shoulder screws:

Stability of the preload under flexible assembly conditions;
Speed ​​of assembly thanks to the pre-assembly system;

Solutions tested and validated (corrosion, environment, etc.);
Etc.
---
100% INNOVATION
Our ability to advise on the most suitable solution for each need allows us to support our customers so that they can go as far as possible in vehicles light-weighting, mastering all technical and economic aspects.
For example, as illustrated in the graph below, the total cost of the assembly function differs depending on the amount of parts used per year, including the cost of the anti-creep solution, the cost of assembly at the plastics manufacturer and the cost of the final screwing.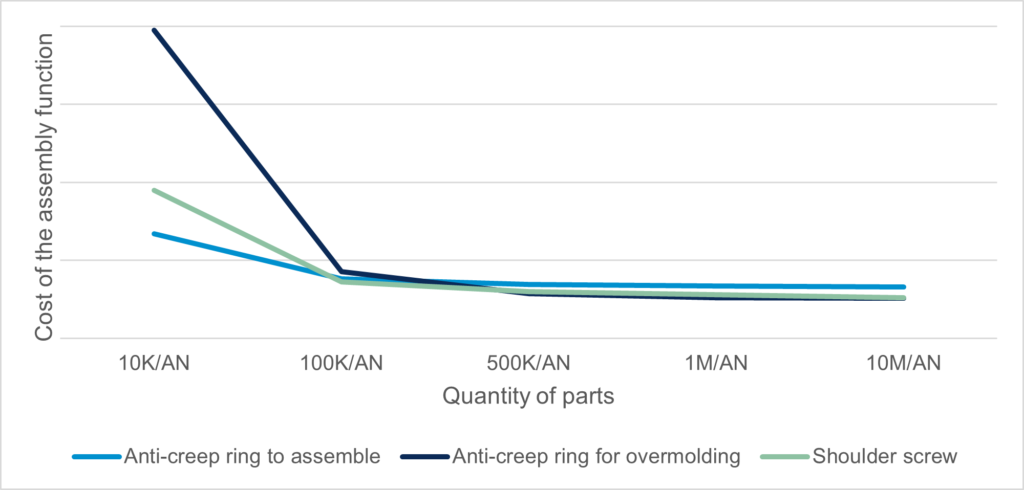 ---
100% LISI
Our multidisciplinary experience in threaded fasteners and in clipped assembly solutions allows us to offer you complete solutions: anti-creep screws, anti-creep rings, standard assembly screws and nuts, etc.
---
For any requests, please do not hesitate to contact us.