VISION
Multi-specialist supplier and development partner of automotive manufacturers and OEMs with an industrial and commercial presence in Euro-Med, China and North America, we provide safety components and fasteners and Assembly Solutions (Screwed, clipped, magnetized) for today's and Tomorrow's vehicles (connected, self-contained, light and low emission). We aim to pursue profitable and sustainable development through selective internal growth and acquisitions in targeted markets
MISSION
By combining the understanding of the current and future needs of our customers with the control of materials and know-how, we offer our customers the most efficient solutions (performance/cost ratio). Through the quest for excellence in every aspect and department of our company and thanks to the deployment of the LISI management system (E-HSE, LEAP & COS), we guarantee the satisfaction of our customers, our employees and our shareholders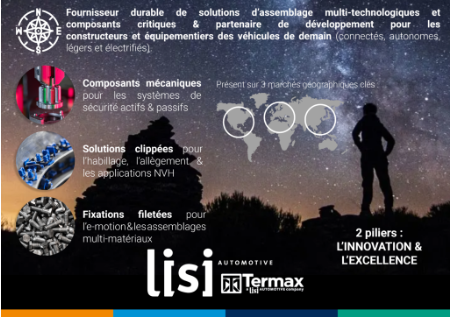 VALUES
OUR CUSTOMERS


Customer satisfaction is the main guarantee for our future. Our commitment is to offer the market the best combination of products and services, in terms of technical solutions, of total quality and of competitiveness. We accompany them in their development and offer them innovative solutions to answer their problems
OUR EMPLOYEES


Our employees are our main assets, their involvement is at the heart of the LISI system. Their dynamism, commitment and competence are the foundations of our success. We encourage teamwork. We place high values on safety, mutual respect, realism, commitment and responsibility. We promote initiative, professional development and continuing vocational training for all.
OUR SUPPLIERS
Our suppliers are essential components in our development. We always look to establish lasting, demanding and rigorously fair relations with our suppliers.

OUR SHAREHOLDERS


Our shareholders provide us with the resources vital to our development. We focus our actions on increasing the value of the business through profitable growth and on tailoring our resources to a best fit with what is truly needed.
RIGOUR AND INTEGRITY


We prioritise the long term, in accordance with our strategic development plan. We always act with fairness and integrity. We respect laws and regulations and are committed to protection of the environment. All our decisions take into account our corporate and social responsibilities.

 
EXCELLENCE

We are a total quality company. We permanently measure our results and through continual improvement, we are determined to achieve Excellence in every domain of the company. We regularly assess internal and external risks and take all necessary measures to protect our customers, collaborators and shareholders.