Published on 23 August 2017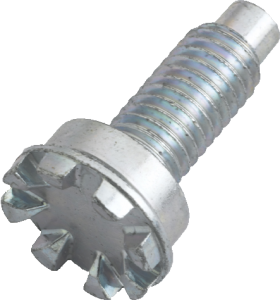 New vehicle technologies, component weight reduction and the optimization and automation of assembly operations are leading to an accelerated evolution of fastening systems, towards greater simplicity and speed.
Fastening systems in general, and molded studs for soft materials in particular, need to adapt to a highly technological automotive industry.
You probably know LISI AUTOMOTIVE threaded fasteners?
An innovative threaded fastener product line has been designed to fix plastic components: the polygonal stud for overmoulding.
A necessary technology…
---
Our threaded fasteners are appreciated for their strength, quality and reliability, notably on our customers' assembly lines. Our engineers have designed the overmoulding stud with the same recognized characteristics and suitable for fastening soft materials, both for aspect parts and for wiring supports used in new vehicle electrical architectures. This innovation makes it possible to overcome complex fastener insertion problems, with direct installation by overmoulding, thereby ensuring optimal geometry. The polygonal stud proposed by LISI AUTOMOTIVE adapts perfectly to all types of overmoulding soft materials and guarantees, with a simple screwed element, the secure fastening of the electrical and structural application. The absence of an insert for our solution results in a saving of time and energy, but also a weight reduction of the fastening system.
… With the advantages of the LISI AUTOMOTIVE expertise
---
As fastening systems evolve, the safety and reliability of assembly systems remain paramount. We chose, through the screw for overmoulding the polygonal stud, to propose a versatile solution in keeping with our expertise. At LISI AUTOMOTIVE, it is important to meet the needs of the customer through a solution that is perfectly adapted to its problem. This is why each application is studied to meet the specific requirements imposed by the assembly system. All these technical data must be confirmed and require calculation and testing for validation in the environment where the system will be deployed.
We put our expertise at the service of new challenges and finds innovative solutions for companies active in the automotive industry in order to meet your needs.