Published on 18 July 2016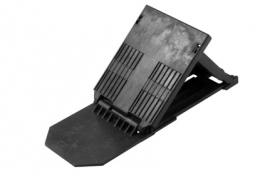 This is a fine example of collaborative innovation: LISI AUTOMOTIVE, in cooperation with NILIT Plastics Europe, designed and developed a wheel chock made up of plastic materials. This is the first time for this type of products.
First of all, let's get into the context : what is a wheel chock and where can it be found in our vehicles?
Wheel chocks, as their name suggests, are dedicated to be put against the stationary vehicle wheels when it has been parked on a sloping ground. More frequently used on trucks, the wheel chock is a triangular bloc that is divided into three parts and takes up little space; it can be packed up and is more commonly stocked in the trunk. Most of the vehicles with an automatic transmission are equipped with such a device. Indeed, these chocks are intended to keep the stationary car from rolling in case of power-supply problems in the electrical braking system.
The automotive industry being in a continuous research to downsize their new vehicles, LISI AUTOMOTIVE contacted PSA to offer potential weight and costs savings; that is how the idea of a plastic wheel chock was born.
Indeed, since their appearance on the market, wheel chocks have been made of metal. However, it is a fact today: every gram counts. Hence the final weight reduction of the wheel chock went from 380g to 110g. With most vehicles requiring two chocks, the total weight saving is 540g, namely more than 70% per car, which is exceptional.
Besides the weight advantage, this wheel chock perfectly fulfills requirements in terms of mechanics and performances. A material was developed, both resisting to humidity and temperature changes and keeping its rock-solid rigidity.
Finally this chock, made up of three distinct parts molded by plastic injections and simply clipped, does not require more than 30 seconds of manufacturing and assembling process!
About 250 000 vehicles have been equipped with this new solution since 2014, year of its commercialization with PSA. Other manufacturers are currently studying and testing this solution. LISI AUTOMOTIVE plans a great commercialization of this plastic wheel chock in the near future.